News
MSR165 Data Logger to measure g-forces for Talos
With its Transport Simulator, Talos enables its customers to find out how they can optimise transportation and packaging of its products. The British company uses the MSR165 shock and vibration data logger to measure the g-forces. More Information...
Another space mission: MSR165 Data Logger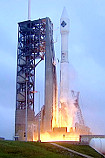 Successful launch: Having been postponed three times, Orbital Sciences' unmanned Cygnus space shuttle was successfully launched into space on Sunday, 06/12/15, carrying supplies for the International Space Station (ISS). Data loggers by MSR Electronics for shock and vibration measurements are on board for the fifth time. More Information...
MSR Mini Data Loggers optimise transports
In order to better assess transportation stresses and to uncover the causes of damage during transit, Lausanne-based company Trimos SA decided to carry out trial deliveries using an MSR165 data logger. More Information...
MSR165 Data Logger for vibration analysis
Vibration analyses on concrete vibrating tables provide important quality assurance parameters. As the user report of Creabeton Matériaux AG shows, MSR165 data loggers are perfectly suited as diagnostic tools. More Information...
Collecting data for secure transportation
MSR data loggers record and store the most important physical impacts on cargo (acceleration/shock/jolt/vibration, temperature, relative humidity, air pressure, light) and therefore make it easier to optimise logistics concepts, as well as quickly and cost-effectively settle any liability and quality assurance issues. More Information...
Detecting machine trouble quickly and accurately
MSR165 data loggers can be used in all areas of the machine building sector to detect and record all kinds of oscillation patterns, vibrations or shock loads. The evaluation of the recorded parameters facilitates the quick and cost-effective fault diagnosis and subsequent mechanical or electromechanical optimisation. More Information...
New: MSR385WD Data Logger with wireless sensors
Permanently record temperature, humidity and pressure values using miniature transmitter modules over long periods of time, at operating temperatures from -20 °C to +125 °C, even in inaccessible locations: The MSR385WD wireless data logger offers these options. More Information...
MSR Data Loggers to quantify rail transportation comfort
Passenger requirements for ride comfort, which is greatly affected by vibration behavior, have grown increasingly stringent in recent years. The engineers at Swiss railcar manufacturer Stadler Rail AG use MSR165 data loggers to provide objective measurements and thus give a numerical indication of ride comfort. More Information...
Hot on the trail of energy loss in compressed air systems
The Energy Savings division of Festo offers compressed air users customised services to determine and tap compressed air savings potentials. There is talk of up to 60 % savings – despite increasing productivity. Festo employs MSR145 data loggers for flow rate measurements on the one hand and for recording pressure values on the other hand. More Information...
MSR Electronics successfully registered
Achilles, a global provider of supplier management and supply chain solutions, carries out supplier qualifications for energy, technology and automation companies such as ABB. At the beginning of March 2015, MSR Electronics GmbH was successfully registered with the Achilles Power & Tech Supply Management Community. Certificate of Qualification
MSR Data Loggers for NASA in space:
What stresses is the cargo exposed to on the way to the International Space Station? Orbital Sciences tries to answer this question using MSR Data Loggers. More Information...
Best practice evidence for transport of medical devices
Professional moving of medical devices requires high level of competence and modern transport logistics. Uroviva Services AG, specializes in transport of medical devices and uses MSR data loggers for quality assurance. More Information...
MSR Data Loggers for artwork transportation
The MSR165 was featured in the German science programme nano, broadcast by 3sat on 8 Oct. 2014, in its report on 'Fragile freight – research enables safe artwork transport'. More Information...
Orbital-2-Mission to Space Station
MSR165 Data Loggers on their way to the International Space Station ISS. More Information...
Shock monitoring is now possible up to 200 g
Due to its extended working range, the compact MSR165 data logger can now record shocks up to 200 g, at a measuring and storage rate of up to 1600 values per second. For a longer recording period of up to five years the shock logger can now be equipped with replaceable batteries. More Information...
To ensure that the products reach the customer undamaged: MSR Data Loggers for continuous transportation monitoring
Which transportation stresses occur during pallet and individual shipment of products? The globally leading cleaning equipment manufacturer Kärcher researched this issue, using MSR data loggers. More Information...
Now available! MSR145WD Wireless Data Logger with BLE, Display & MSR SmartCloud
Wireless monitoring of measurement data and rapid reading of measured values – this ease of use is offered by the new MSR145WD. The logger is equipped with Bluetooth Low Energy, an OLED display and the optional "MSR SmartCloud" service for mobile data monitoring. More Information...
Miniaturised data loggers help with machinery, workpiece and manufacture optimisation
Tracking down signs of wear: With MSR165, the dynamic mechanical loads of workpiece holders can be identified precisely. More Information...
MSR145 for fall detection by smart phone
Researchers at the University of Roehampton used MSR data loggers with tri-axial accelerometers to record signals during a fall of the human body. More Information...
New: Special data logger for soot particulate filter monitoring
The basic module of the MSR data logger for soot particulate filter monitoring includes the special data logger for measuring differential pressure, temperature and speed, a separate LED and user-friendly PC software for data acquisition and analysis. More Information...
MSR145 used for space medicine
The University of Zurich and the Swiss Air Force have executed a unique, joint space medicine research – MSR145 mini data loggers are integral parts of the control module of the experimental system. More Information...
MSR145 Data Logger with more options
Five in one go: The new possibility of selecting up to five sensors of the same measurand affords the user a multitude of new areas of application for the MSR145 mini data logger. More Information...
MSR measures g-forces for Galileo test
TV show "Galileo" by ProSieben is going on an expedition into microcosm and wants to know: which g-forces would humans be subjected to if they moved like the cyclist spider? More Information...
The MSR165 takes off!
Together with British Ministry of Defence (UK MOD) Aircraft Project Teams and Defence Contractors, the UK MOD's Defence Science and Technology Laboratory (Dstl) has undertaken a range of laboratory testing and flight trials using MSR165 dataloggers. More Information...
MSR data logger in TV show "Galileo", Pro7
Spectacular acceleration measurements for "Middle Ages eXtreme" programme! What truth is in Hollywood's film myths of Robin Hood & Co.? More Information...
Live a healthier life with the activity.COACH

Put your resolution to get more exercise into practice now! The Medbase exercise scientists have developed particularly effective health management programmes using the MSR data logger. More Information...
MSR Technology integrated in Pelvic Floor Trainer
The Pelvictrainer® which was developed by the Swiss company Msys AG and incorporates MSR technology is raising international interest. More Information...
MSR Data Logger on Swiss Television!
The information magazine "Einstein" of SF DRS broadcast a very interesting program about water skiing as an extreme sport. MSR data logger was on board. More Information...
For acceleration measurements at
exposed locations
For the first time MSR dataloggers are also available with an external instead of an internal 3-axis accelerometer! More Information...
Further news